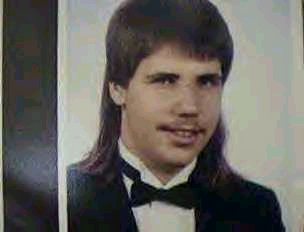 The mullet's origins are shrouded in mystery. Urban legends have it dating 
back to 19th Century fishermen, who wore their hair long in the back to 
keep warm — hence the term mullet. The Notes section of the Viking 
edition of Lydia Davis's translation of Swann's Way by Proust states "Jean 
Baptiste Prosper Bressant was a well-known actor who introduced a new 
hairstyle, which consisted of wearing the hair in a crew cut in front and 
longer in the back."
The mullet became popular in the 1970s, due in part to the influence of 
English glam rock artist David Bowie, who wore the haircut during his Ziggy 
Stardust and Diamond Dogs phases. Women also wore the style–Florence 
Henderson, a star of the sitcom The Brady Bunch, has a mullet in the 
opening sequence from the show's 1973-1974 season. The hairstyle 
achieved further popularity in the late 1970s and 1980s among 
entertainers with receding hairlines such as Anthony Geary of "Luke and 
Laura" fame from the soap opera General Hospital and the singer Michael 
Bolton.
In the 1980s, the mullet became big and bouffant, and bemulleted men 
often indulged in other 1980s hair crazes such as spiked hair and blonde 
highlights. A good example of a popular mullet-man was Richard Dean 
Anderson in the 80's TV series MacGyver. In the early 1990s, country 
singer Billy Ray Cyrus's "Achy Breaky" mullet fostered both imitation and 
ridicule.
The Beastie Boys 1994 song "Mullet Head" made fun of the hairstyle, and a 
year later band member Mike D discussed the mullet at length in issue 2 of 
the band's Grand Royal magazine:
There's nothing quite as bad as a bad haircut. And perhaps the worst of all 
is the cut we call The Mullet.
It goes on to lampoon the hairstyle over several pages, including many 
photographs of celebrities sporting mullets. Soon after the article was 
published, it became popular for fans of the band, and for youth culture in 
general, to mock the hairstyle.