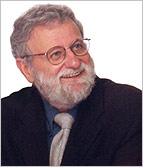 Don Norman's jnd.org / user advocacy and human-centered design
okumalı
Index of Essays:
Design
Emotion & Design
Technology & Society
Television
Education
Automobiles
People
"We are analog beings trapped in a digital world, and the worst part is, we 
did it to ourselves."
"We humans are biological animals. We have evolved over millions of years 
to function well in the environment, to survive. We are analog devices 
following biological modes of operation. We are compliant, flexible, 
tolerant. Yet we people have constructed a world of machines that 
requires us to be rigid, fixed, intolerant. We have devised a technology 
that requires considerable care and attention, that demands it be treated 
on its own terms, not on ours. We live in a technology-centered world 
where the technology is not appropriate for people. No wonder we have 
such difficulties."
üstüne bi de unabomber manifesto :P