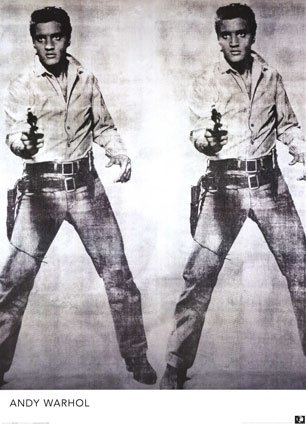 75 ways to celebrate Warhol's 75th
Andy Warhol, the king of Pop Art and one of the most influential artists of 
all time, would have celebrated his 75th birthday today. Sadly, he died in 
1987, but that doesn't mean we can't throw him a party.
After doing some research on the artist's vibrant life, I've compiled several 
ways to honor Warhol — and even if it weren't his birthday, I'd say these 
are some pretty good rules to live by.
1. Go to Pittsburgh. Warhol's birthplace is now home to the Andy Warhol 
Museum and the artist's grave. He lived in the city until 1949, when he 
moved to New York.
2. Change your name. Born Andrew Warhola, he changed his name after 
Glamour magazine misspelled it in an illustration. For a brief period he only 
went by "Warhol."
3. Visit a museum! Here's a list of some museums that include Warhol's 
works in their permanent collections. Why not bask in one during your 
lunch break? 
4. Go to a department store. "When you think about it, department stores 
are kind of like museums," Warhol once said. Walk inside, stand still and 
observe.
...
www.usatoday.com/life/columnist/popcandy/2003-08-05-pop-candy_x.htm