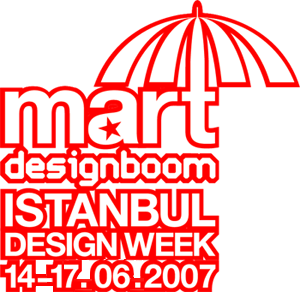 bring a designsouvenir back from istanbul
istanbul design week ,
14 - 17 JUNE, 2007
(istanbul design week 14 - 24 JUNE, 2007)
for the first time, the designboom mart
will travel to turkey. sitting astride
two continents instanbul is blessed with
a striking architectural heritage and a
thriving design scene, in 2006 it received
the wallpaper* magazine 'best city award'.
as part of the cultural program of the
istanbul design week, designboom will
host a curated group show of design talents
from all over the world. the designboom mart
will give visitors the opportunity to to buy
design souvenirs™ and limited edition pieces
directly from the designers themselves
---
how to particpate
if you are interested in participating at this mart
please email us a few images of your design projects
that you would like to bring.
criteria
you should keep in mind that the mart is a sales exhibition,
therefore you are invited to sell a small amount of
(self) produced items priced from:
(turkish new lira) TRY 15 - TRY 150.
objects should be lightweight and easy to carry.
send us your work
please send your submissions to: mail@designboom.com
subject line: 'designboom mart istanbul'.
please note - emails should not exceed 1MB