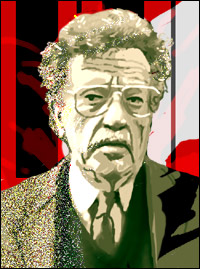 Kurt Vonnegut was a unique voice in American literature. His novels speak of the dark
tragedy of the human condition while still remaining comical. His quirky, plain-speaking
style mixes elements of science fiction and stylistic invention. He comments on the
destructive stupidity of the human species, while retaining as a self-proclaimed humanist
and socialist, an acceptance and even love for our frailty.
Although Vonnegut's work employs many fantastical flights of fancy, it was informed by and
deeply rooted in his background and experience.
Published: April 12, 2007             
Kurt Vonnegut, whose dark comic talent and urgent moral vision in novels like
"Slaughterhouse-Five," "Cat's Cradle" and "God Bless You, Mr. Rosewater" caught the temper
of his times and the imagination of a generation, died last night in Manhattan. He was 84
and had homes in Manhattan and in Sagaponack on Long Island.