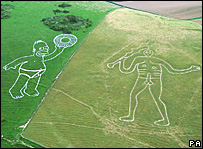 A doughnut-brandishing Homer Simpson was painted next to the giant on 
the hill above Cerne Abbas, Dorset, to promote the new Simpsons film. 
üstelik bu ilk de değilmiş 
It is not the first time the giant has been used to advertise products. He 
has been used to promote items as diverse as condoms, jeans and 
bicycles.