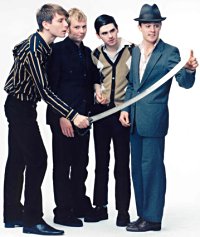 Franz Ferdinand's encouraging fans to illegally download its latest 
recording rather than purchasing it.
The Archdukes of Art-Punk recorded a cover of David Bowie's "Sound and 
Vision" for a release to mark BBC Radio 1's 40th anniversary. The album is 
released by the BBC Oct. 1 in the United Kingdom, but Franz isn't too keen 
on greasing the wheels of capitailism, and encourages fans to pirate the 
song from peer-to-peer networks.
"The whole shabang doesn't appear to be for charity so point your 
browsers towards Limewire soon, kiddies!" the band said in a statement.
///////////////başka bir kaynak///////////////
Franz Ferdinand have spoken publicly in the past about its support for 
illegal copying/downloading/sharing of digital music, and the band is 
reinforcing that support with a post on its website today, which not only 
instructs fans to download a copy of a new David Bowie cover on Limewire, 
but disses pretty much everyone else involved with the album on which the 
song will appear:
"Franz have covered David Bowie's 1977 single Sound And Vision for a new 
compilation marking the 40th anniversary of BBC Radio 1. The album 
features contemporary artistzzzz covering a song from each year since the 
station's first broadcast in 1967.
Other highlights include:
(1975) Kylie - Love Is The Drug (Roxy Music)