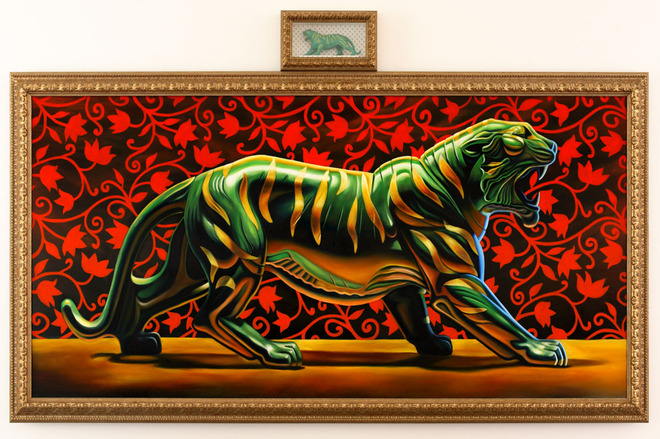 You could be doing a lot more with the stash of childhood toys you have 
buried in your mom's basement. Take Robert Burden, who has an exhibit 
called Toybox up at Roq La Rue Gallery in Seattle this month.
Burden created a series of large paintings honoring the action figures he 
worshipped as a child.
"It's hard for me to look at anything as a young adult the way I looked at 
them as a kid," explains the San Francisco artist. "I look at these toys now 
and they just seem like cheap pieces of plastic, but as a young boy, these 
things were incredible, beautiful, larger than life. Getting to go to Toys'R'Us 
and walk down the aisles of the action-figure section was like a religious-
consumerist experience."
To rekindle that glamorous spirit, Burden created large canvases depicting 
his toys within beautiful shrines. "Maybe these paintings are a personal 
way for me to get back all of the naive and unabashed idealisms that I 
held as a kid," he says. "But aside from all of my conceptual reasons for 
making this work, part of me just wanted to see a really big Battle Cat 
painting [pictured]."
To make the paintings even more elaborate, Burden displayed the 
masterpieces so that the toys they represent are built into the frame via 
shadowboxes. "Captain America just contains the arm of my original action 
figure, because the painting is like a memorial, so I wanted it to be more 
like a reliquary. The Foot Soldier contains 3 foot soldiers on top of the 
painting. It made sense to put a few of them with the painting because 
they were ubiquitous and always seemed to work in numbers."
While Burden's stash of childhood toys is large, he says he's still trying to 
locate certain lost treasures.
"Luckily my Mom never throws out anything (God bless her!). But some of 
my old beloved toys from when I was a kid have gone missing over the 
years, so I've been trying to track them down on eBay, or I've been asking 
my friends if they have any of the action figures that I'm looking for (they 
almost never do)."
Think you have an action figure Burden should turn into a work of art? 
Drop him a line. You never know; your trash may turn into a treasure.
Photo courtesy Robert Burden