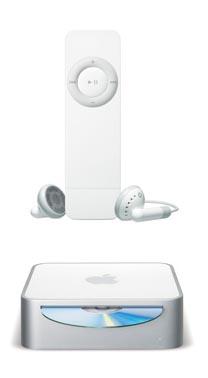 As rumors suggested in the past weeks, the device uses Flash memory 
instead of a harddrive to store songs, but resembles the design approach 
of the iPod family. At a size of a bubble gum package, the device has a 
sleek white casing that integrates a scroll wheel to navigate through 
content. Apple nixed a LCD to save cost and drive the drive below $100 for 
a 512 MByte version of the iPod Shuffle. The company also offers a 1-GByte 
version of the player. 
An innovative feature of the Shuffle is a USB connector which is exposed by 
removing a cap from the bottom of the device. The connector lets the 
device act like a common USB Flash stick and serves as transfer interface 
from a Mac or PC. According to Apple the Shuffle's battery will provide a 
music playing time of about 12 hours. 
Apple also announced an expected entry-level computer below the iMac. 
The new Mac mini is built into box 6.5 inches wide and two inches tall. The 
computer is priced from about $500 and weighs 2.9 pounds excluding a 
screen, keyboard and mouse. 
The Mac mini is available with a 1.25 GHz or 1.42 GHz G4 processor, a 40 
GByte or a 80 GByte harddrive a CD-R/DVD-ROM combo-drive , 256 MByte 
RAM and a ATI Radeon 9200 chip with 32 MByte RAM. Interfaces include 
Ethernet, Modem, USB, Firewire and a headphone connect.