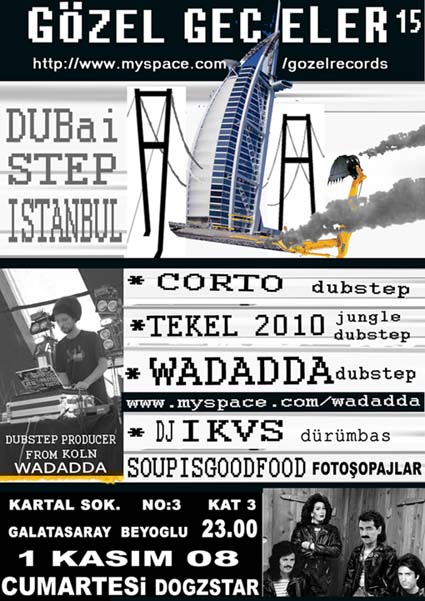 15.GOZEL GECELER  'DUBai STEP ISTANBUL' @ DOGZSTAR 
1 KASIM 08 Cumartesi  
...,dubstep,jungle,fotoşopajlar,..
WADADDA,DJ IKVS,SOUPISGOODFOOD,CORTO,TEKEL2010 @ DOGZSTAR
 Wadadda is a dreadbass and dubstep producer from Cologne, Germany. 
He started producing dubstep in Summer of 2006. Since then he played 
several shows with artists such as: Digital Mystikz, The Bug, Hijak, 
Milanese, Tikiman, DJ Maxximus, Phokus, MackJiggah, Roots and Fruits, 
Bam Bam Babylon Bajasch and many more. His music got a lot of airplay 
and was played by Mary Ann Hobbs on her Radioshow at BBC 1, Klaus 
Fiehe played Empiyah on his Radioshow Raum und Zeit on 1LIVE and on 
local radioshows and was played by DJs such as Kid Kameleon, Selector 
Dub U, DJ Maxximus and many others. He is also a regular DJ at the Bass 
the World nights held in Club Maria in Berlin. He produced UK style Dub 
Reggae in his own studio, the Tabanackle Dub Chamber, which he runs 
together with Oli Dread from Dubfront Outernational, even before he got 
into Dubstep. Together with friends he also operates the Jah vibes 
soundsystem and the Dubclub Cologne.   
20070525