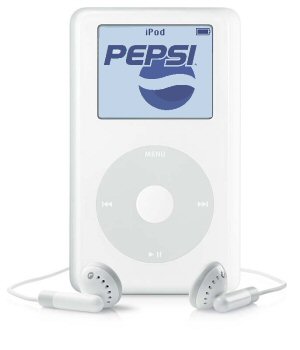 Monday, February 21 12:00 AM ET  
New Ipod Firmware Will Display Ads
By Brian Briggs and Francisco Rangel  
Cupertino, CA - Apple announced a new firmware update for its line of iPod 
music players. The update will be necessary to play songs bought from the 
iTunes Music Store beginning next month
Among the features of this new firmware are enhanced playback 
functionality, a simpler user interface, better song shuffling, and a new 
banner ad feature that will display information on new Apple and other 
relevant products.
"We needed to find a new revenue stream for the iPod. Selling music and 
music players just doesn't have enough profit in it. We felt we could 
leverage the iPod's leadership position and its LCD display to monetize the 
eyeballs," said an Apple spokesperson Kevin Wilson.
Wilson also said for users who don't want to see ads on their iPod that an 
ad-free iPod would have to buy a "Drink Pepsi" branded iPod for $650 and 
a $10 monthly fee.
Many iPod users were upset by the news, like Victor Shehab of Madison, 
Wisconsin. He said, "I hate ads, but I love my iPod, so I guess I'll just have 
to avoid looking at it from now on."
However, Wilson said, "What are songs, but three-minute commercials for 
the artist. We think iPod users will embrace the technology when they get 
a chance to see it in action."
If successful, Apple will move on their plans to insert 30-second audio ads 
for customers. 
The new firmware will automatically be installed the next time users synch 
their iPod.