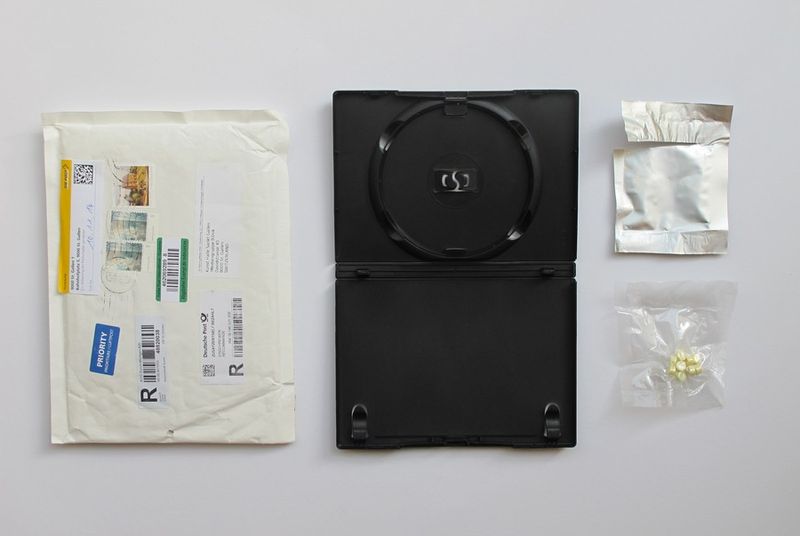 This automated bot bought ten pills of ecstasy in the name of art
An art collective in Switzerland has created an automated bot that delivers drugs — and a lot of other stuff — to their front door. The bot, "Random Darknet Shopper," was created by the !Mediengruppe Bitnik collective for an exhibition on the so-called darknet. Using a weekly budget of $100 in bitcoin, the bot trolls Agora and other Silk Road-like marketplaces and makes one randomized purchase. In November, it purchased ten pills of ecstasy, as documented on the collective's website, though it's delivered less illicit items, as well: a pair of Diesel jeans, Lord of the Rings e-books, and a pair of Nike Air Yeezus 2 shoes. All items it purchased have been put on display at the Kunst Halle gallery in St. Gallen
The artists describe their work as a "live mail" art project that explores the darkest corners of the darknet. "We want to see what goods come out of the deep web," the artists tell FastCo Labs, "where they are sent from, how (and whether) they arrive. We want to find out how the goods are packaged to be concealed from the postal services."
Mediengruppe Bitnik has experimented with postal projects before. In 2013, they sent a package to WikiLeaks founder Julian Assange at the Ecuadorian embassy in London, replete with a hidden camera that recorded its entire journey through a peephole. Their current work has a precedent, as well. In 2012, Darius Kazemi created a "Random Shopper" bot that purchased items on Amazon. But directing their bot on sites like Agora, where anonymous sellers push contraband, presents more complicated questions of legality and trust.
"By exploring the Darknet from an artistic viewpoint we hope to critically evaluate mass surveillance, and to study alternative structures and forms of communicating outside mass surveillance," !Mediengruppe Bitnik tells FastCo Labs. "How is identity formed in these networks? How is communication and exchange possible in anonymous networks? What forms of trust building arise? How do you trust each other if you don't know to whom you are talking to? How can we as artists examine these questions in a meaningful way?"