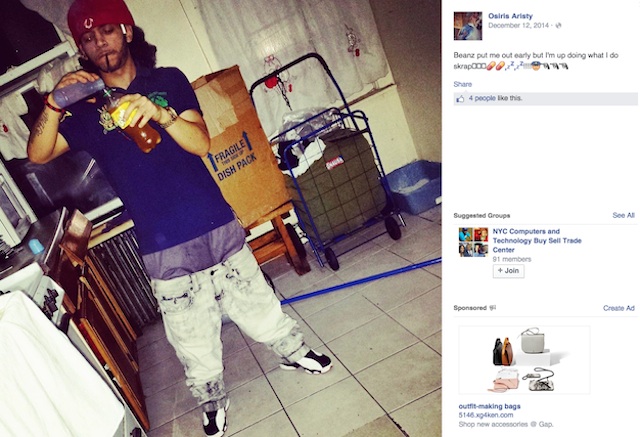 A 17-year-old Bushwick resident was arrested on Sunday after cops spotted alleged threats against the NYPD posted to his Facebook page. And the real trigger, apparently, were emojis: specifically, gun emojis pointed at police emojis. He has since been charged with making terrorist threats, in addition to weapons and drugs possession.
According to a criminal complaint, Osiris Aristy was arrested at his home on Wyckoff Avenue at around 2:46 a.m. on Sunday, after an informant with the police department spotted a series of troubling posts on his Facebook page. These, according to the complaint, included photos of himself posing with drugs, gang signs and guns, but cops were primarily concerned about the emoji-heavy "threats" referencing the NYPD.
One such post reportedly read, "N***a run up on me, he gunna get blown down," followed by a cop emoji and three gun emojis pointing at it. Another, according to the complaint, read, "Fuck the 83 104 79 98 73 PctKKKK," followed by a cop emoji, two gun emojis and the line, "U know how I rock skrap." More posts of this nature appear on his Facebook page.
The complaint claims these postings "caused informant and other New York City police officers to fear for their safety, for public safety, and to suffer alarm and annoyance," and cops showed up at Aristy's home on Sunday. A search yielded a .38 caliber Smith and Wesson firearm and over 25 grams of marijuana, which was packaged in nearly two dozen ziploc bags.
The NYPD says they've stepped up their efforts in investigating threats against police officers, following last month's brutal slaying of two cops in Brooklyn. But Aristy's attorney, Fred Pratt, says his client never posted a real threat. "I understand that people found what he said distasteful and uncomfortable," Pratt told DNAinfo, "but he never threatened to take action against police."
Aristy, who has a long rap sheet and pleaded guilty to robbery in October, had bail set at $150,000.