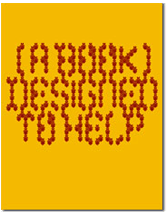 The Designed To Help project was launched by UK designers iLovedust, 
earlier this year. The idea was to produce a book of graphic design, 
illustration and photography, to raise money to help charities deal with the 
tsunami crisis in Asia. iLovedust received an overwhelming response from 
designers and prospective partners who wanted to support the project, 
and when renowned design publisher Die Gestalten Verlag (dgv) joined 
iLovedust, 'A Book Designed To Help' became a reality. The book is a lavish 
hardcover of 304 pages, featuring around 1,000 artworks from over 240 
contributors from around the world.