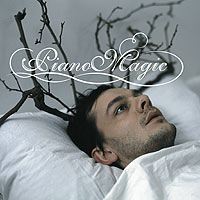 ilgilenene, yeni album tum muzik marketlerde
PIANO MAGIC - Disaffected
Green UFO's
CD // £ 10.99   
You know what we're really short on at the moment? Bands who cite The 
Smiths as their main influence... Joining the swelling ranks of Mozphiles are 
Piano Magic who can at least claim they were on the Salford band wagon 
earlier than most, with 'Disaffected' marking their 6th album proper. 
Coalescing around a core 5-piece, but very much guided by an open-door 
policy, Piano Magic open 'Disaffected' much as you'd imagine; Nick Cave 
rhythms, The Dears-style guitars and Glen Johnson's vocals that pitch up 
somewhere between Marc Almond, Brian Wilson and (of course) Morrissey. 
Yet that's not the whole story of 'You Can Hear the Room', for even when 
you think you have them pegged, niggling away in the background is a 
clutch of reedy John Williams synths that serve to elevate it above much of 
the current guitar based groups. Next up is 'Love and Music', twitching into 
life through a Radiohead intro that soon settles on a Dream City Film Club 
rhythm as its foundation. With lyrics that can become a little cloying ("All I 
knew was love and music, Love and music get me by, And all I need is love 
and music, love and music 'till I die..."), 'Love & Music' is again rendered 
fresh through some post-punk atmospherics. The theme of the album 
(melancholy tinged optimism) is continued on title track 'Disaffected', albeit 
in entirely different clothing. With a Casio beat and self-consciously 
delivered female vocals (Angele David-Guillou, aka Klima), 'Disaffected' 
takes on a distinctly poppy feel whilst the male/female duet of 'Deleted 
Scenes' works a treat. Elsewhere, 'I Must Leave London' is a clichéd 
acoustic/strings match up that sounds lovely, whilst 'You Can Never Get 
Lost (When You've Got Nowhere to Go)' goes straight for the emotional 
jugular. Say yes Paul...
>>boomkat.com<<