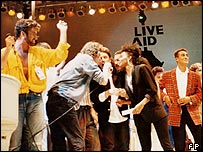 Live Aid had the best motives. But to pretend this emotional, ad hoc 
response to the complex and chronic problem of famine in Africa made a 
positive difference was naive, rooted in a fictional idea that rock changes 
the world. 
It cannot and it did not in 1985. 
Money from Live Aid saved lives but, as aid expert David Rieff recently 
argued, it may also have led to the loss of just as many lives. 
There was no sea change in attitudes. That wave of compassion did not 
stop millions voting for right wingers like Thatcher, Bush and Kohl in 
subsequent elections. 
Today, Africa is, if anything, worse off.