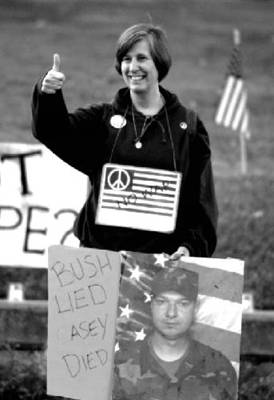 Sonunda oldu canavar sheehan tutuklandı
WASHINGTON (Reuters) - U.S. military mother Cindy Sheehan, whose vigil 
outside President George W. Bush's Texas ranch drew attention to the 
anti-war movement, was arrested on Monday at a White House sit-in after 
she refused to obey police orders to leave.
Sheehan, whose son Casey was killed in combat in Iraq last year, was one 
of some 200 protesters who sat in circles on the sidewalk along the White 
House compound's northern edge, purposely courting arrest. Hundreds 
more rallied in Lafayette Park, across Pennsylvania Avenue from the 
executive mansion.