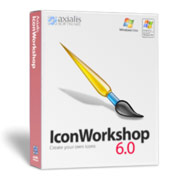 Axialis Icon Workshop 6.0
Create Windows® Vista® icons 
Vista®, the future version of Windows® to arrive in 2006, will support 
256x256 PNG compressed icons. Start creating Vista® icons today with 
IconWorkshop. 
One tool for all your needs 
Axialis IconWorkshop is a professional tool for Windows® designed to 
create, edit, extract, convert and manage your icons in a fully integrated 
workspace.
The future of icon creation 
No more pixel-by-pixel icon making. Make professional icons in minutes 
using ready-to-use image objects. 
Create icons for Windows® and Macintosh®
IconWorkshop is the only editor to create icons for Windows® and 
Macintosh® (up to 256x256 for Tiger). It features instant conversions and 
supports MacBinary file format for easy transfers. 
Compatible with graphic industry standards 
You can create icons from PNG, PSD, JPEG 2000 images with alpha 
transparency, create optimized GIF images from icons, use a Photoshop® 
transfer plug-in...
- pek harika sonuclar cıkartıyor standart da olsa customize edilebiliyor