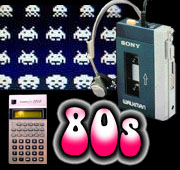 60's
The Swinging Sixties? Andy Pandy, Thunderbirds, Mini Skirts, The Beatles, 
Malcolm X, Vietnam, Swinging London, Woodstock - How much can you 
squeeze into ten years?   
70's
It's Glam Baby! Except when it's bubblegum, disco, punk,  Jaws, Star Wars, 
The Bay City Rollers, The Osmonds, Farrah Fawcett Majors or a geezer in 
platform heels on a Raleigh Chopper!     
80's
Greed Is Good The "me" decade not only gave us Thatcher, Reagan and 
Wall Street - it also gave us the Rubiks Cube, Space Invaders, CD's, the 
Falklands war, Dallas and Duran Duran!