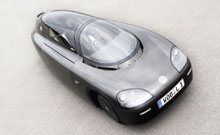 volkswagen dünyanın en ekonomik arabasını üretmiş.100 kilometre için 
0.99 litre yakıt tüketiomuşş.
Volkswagen has once again demonstrated its position at the cutting edge 
of modern technology by presenting the world's most economical road car: 
the 1-litre or 285 mpg car.
It has an average fuel consumption of just 0.99 litres per 100 kilometres. It 
manages to combine driving pleasure with a level of fuel consumption 
never seen before.
The 1-litre car is a vehicle which looks more like a sports car than a typical 
research vehicle.
It is 3.47 metres long, but just 1.25 metres wide and just over a metre in 
height. To save weight, it is made of carbon composites and is not painted.
The interior is sportingly simple in design, yet offers enough space for two 
people.
The concept of the 1-Litre car - four wheels, low height, with two seats in 
tandem - gives an idea for a possible new family of vehicles, which could 
cover new requirements ranging from the ultra-economical vehicle, through 
the low-cost performance sports supercar.