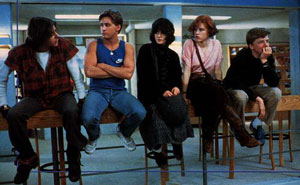 Hello and welcome to The Brat Pack Site. Here you will find news and 
information on the group of actors that became famous in the 80's and 
were known as 'The Brat Pack'. The Brat Pack consisted of eight actors, 
Emilio Estevez, Anthony Michael Hall, Rob Lowe, Andrew McCarthy, Demi 
Moore, Judd Nelson, Molly Ringwald and Ally Sheedy.       
 They appeared in many films including The Breakfast Club, Pretty In Pink 
and St Elmos Fire. A lot of the films they were in were either written, 
directed, produced, or all three, by John Hughes. Since then the actors 
have had mixed fortunes regarding their careers but have all continued to 
work in the industry. You can find out what they are up to now by clicking 
on their names at the bottom of the page or by going on 'The Pack' page.  
---
şu an vh1 de bunlar neydi/?ne oldu?  belgeseli var
pek harika